This week I have covered Le Grand Kalle and a couple of his protoge's, Dr. Nico and Pepe Kalle. In weeks past I also covered Franco and Tabu Ley, both of whom got their start with Le Grand Kalle, branched off and started their own bands, which launched the careers of several other artists. One of those artists has become a big star in his own right and he goes by the name Sam Mangwana. He began his career with Tabu Ley and L'African Jazz then later joined Franco and his OK Jazz. He was also in 4etoiles and had his own orchestra, Festival Des Maquisards. Read about his career at length here:
Sam Mangwana's Biography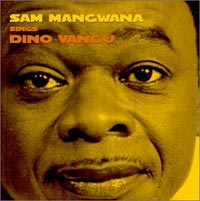 It is amazing to me how these different artists that I've blogged on so far ALL have had (for those still with us, STILL DO have) huge followings and massive worldwide success spanning several decades. Sam Mangwana still continues to make wonderful music and innovate within the realm of Congolese Music by mixing different influences while still keeping it fresh.
Here is a nice
review for Cantos De Esperanca
his most recent, 2003, release which speaks to Mr Mangwana's versitility as a singer and composer.
Let us not forget his voice. It is one of rich texture which he inflects effortlessly from baritone to falsetto. One of the best in music. Here is some examples of his greatness over the years.
Zela Ngai Nasala
1969 release w/Festival Des Maquisards
Jamais Kolonga
from the 1995 release Rumba Music*
Toujours OK
from the 1989 release Forever w/Franco
Enjoy...
*this file is now mp3, enjoy :)
TAMBOUR D'AFRIQUE
will hopefully air tonight. As of right now it SHOULD. Last week as you may know the web servers failed and the show was cancelled. Please tune in tonight @ 10 pm EASTERN time by visiting
RADIO TRIOMPHE
and clicking on the link next to the microphone. Thanks for keeping up with the show and the blog. Guy and myself truly appreciate it.
PEACE