Bavon Marie Marie was born Siango Bavon Marie Marie on May 27, 1944 in Kinshasa, Congo. He was the type of boy who caused a little trouble but was very intelligent.
He was popular in his "Far West" district of Bosobolo. As he grew older his lifestyle grew more flamboyant, drinking heavily and bleaching his skin. Bavon like his brother the great Franco Luambo Makiadi, was a guitarist and played for a few bands before
he landed a solo guitarist spot in the orchestra Les Negro Succes. In the late 1960s he and his parter Leon Bholen became idols as leaders of Les Negro Success.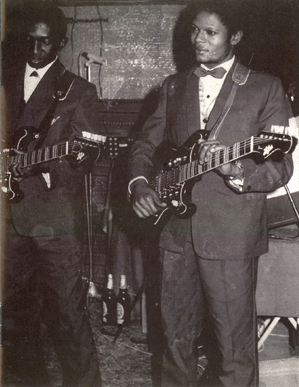 His name and legacy can never be detached from that of Franco's though by many accounts Bavon Marie Marie was just as talented as his older brother was. Naturally he was overshadowed by his brothers age, experience and greatness. After all Franco was the Grand Teacher/Le Grand Mattre of Congolese Rumba. It only made sense that as his younger brother Bavon Marie was his student. Bavon Marie's guitar technique was a more youthful, funkier version of his brother's. As I listen to "Lucie Tozongona/Lucie Come Back" (listen to
Lucie Tozongana
) I hear the obvious nuances he picked up from his
brother such as his sense of rhythm and how he chooses to place his guitar picks. But something is a little more spunky about it. He was like a Franco for the younger generation. His melodies and lyrics were just as infectious.
On August 5th in 1970, Bavon Marie Marie was killed in a fatal car accident. According to Frank Bessums site
Musiques d'Afrique
, legend has it that the fatal night began with a dispute between Bavon and Franco in which Bavon accused his brother of sleeping with his girlfriend, Lucy. And it ended with Bavon Marie Marie deceased at the wheel and Lucy with no legs. Other sources site his alcoholism and that he was upset that Negro Succes had missed a show. Either way his death is a great tragedy. We will never know what innovations he might have brought to Congolese music had he not died. May he rest in peace.
Bavon Marie Marie had a knack (like his brother) for writing songs that touched the people. On last weeks broadcast Guy played the song "Mwana 15 Ans/15 Year Old Child" a Negro Success song which is sung from the point of view of a 15 year old girl in Congo. She is sad because her family is looking to have her married off soon but she wants to go to school and grow up some more before she does that. Guy played the song in correlation with his examination of Illiteracy among the youth in Africa, particularly the girls and how it affects them socially. 30 some odd years after "Mwana 15 Ans" was released this song is still very relevant today.
Here this masterpiece here:
Mwana 15 Ans
Peace
sources for today's entry:
http://www.geocities.com/fbessem/frames/art_bavon.html
http://www.afrik.com/article7639.html
http://www.laconscience.com/article.php?id_article=114